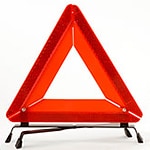 If you find yourself in an emergency situation, don't panic. By taking a few preventative measures ahead of time, you can keep yourself and your loved ones safe until the authorities arrive.
The first and best way to prepare for a roadside emergency is to have items such as jumper cables, water, first aid and a flashlight available somewhere in your vehicle. In the winter months, it is also a good idea to have antifreeze on hand. When you do find yourself in a roadside emergency situation, look to move yourself and others away from the scene of the accident. If the event you experienced wasn't an accident, but instead was something like a blow out, it is okay to move your vehicle to the outer rim of the road. Just be sure to do so safely and cautiously, while looking out for oncoming traffic.
As always, be sure to call 911 to report the scene of an accident or other hazardous situation. Stay in your vehicle if you are able, and always use discretion if others approach your vehicle while you wait.