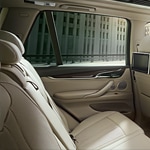 If you want to own an SAV that lacks nothing when it comes to luxury, convenience and high-performance amenities, the BMW X5 should be at the top of your list. This popular vehicle is waiting for you to test drive it at BMW of Rochester Hills, so don't hesitate to come by when you have time to take one out on the road.
Regardless of whether you choose one of the turbo-charged six-cylinder engine styles or go straight for the high-end eight-cylinder model, you're sure to find power and capability to spare. Additional standard and optional amenities accompany each of the different engine selections.
A digital display and cutting-edge information and entertainment system benefits the driver and passengers alike while the numerous modern safety technologies work overtime to supply extra security and peace of mind wherever you happen to travel.