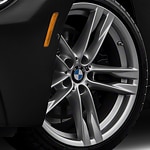 The BMW 6 Series is one of the most popular full-size luxury cars on the market today. More people are seeing the value and style that come standard with the BMW brand. The 6 Series comes loaded with excellent features that keep it at the top of the food chain.
The 6 Series comes with a couple different powertrain options for those that are looking for options under the hood. The 3.0-liter V6 engine puts out 315 horsepower. The other option is the 4.4-liter V8 engine that boasts 445 horsepower. Each engine is paired with an eight-speed automatic transmission.
Rear-wheel drive comes standard with the BMW 6 Series, but there is an option to upgrade to the all-wheel drive option. This will enhance stability and traction while driving and makes it a better option for traveling in areas where weather can make the road conditions less than favorable.