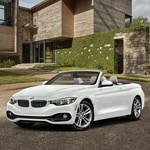 The 2020 BMW 4 Series is a masterful automobile to say the least. This vehicle will come in a convertible trim or a coup. Of course, BMW has equipped this road beast with technological advancements, comfort features as well as preventive safety features. Consumers can also choose from various paints, including marina blue, Austin yellow, blue metallic, orange and more.
The 2020 BMW 4 Series is a performance machine that's light in overall weight. Nimble steering and agile handling can be expected while commuting. Depending on the exact trim choice, this car will come equipped with a V6 that generates 425 horsepower. In addition to that, there's a 444-horsepower engine that's available via the brand's Competition Package. The BMW 4 Series has reinforced plastic that's constructed of carbon fiber as well as 20-inch wheels.
Head over to our dealership today. Test drives are also on the menu for interested buyers.